Are you a fan of GetGlue? Do you like to rack up achievements and trophies on your gaming system? Are you interested in showing how big of a PoP! fan you really are?
We've devised a fun new activity for the PoP!ulation to help encourage particpation, which we've dubbed the "PoP!ulation Passport"! Basically, it's a signature image for your PoP!ulation Forum account, and you'll be able to earn up to 20 stamps at a time to show off your PoP! cred.
Take a look!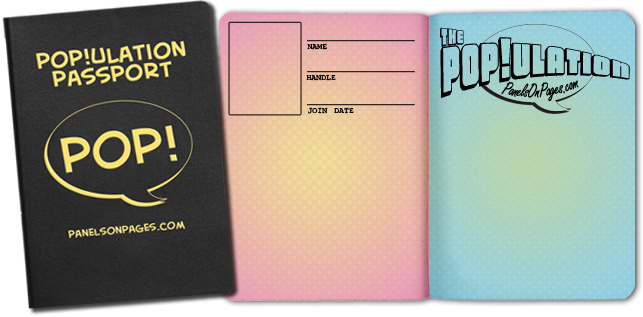 Each month, we'll have a variety of stamps to earn, and at the end of each month, we'll update your Passport with all of your latest stamps.
Some stamp might include:
C2E2
NYCC
PoP!toberfest
PoP! Goes the 4th
PoP!ples Choice Award Winner
Member Since:
PoP! MVP
FGOTM
PCN Show Listener
DC Fan
Marvel Fan
Indie Fan
Walking Dead Fan
Wrestling Fan
Dr. Who Fan
This is just a start! We'll also have some special achievement stamps which will be hidden throughout PoP! over the course of the month. We'll even take requests for new stamps! And the more stamps you earn, you can trade in for bigger, better stamps!
Just respond this thread with your Name, Handle, Join Date and preferred image, and we'll get you a PoP! Passport ASAP. Then you're ready to start earning stamps!
The only catch? The PoP! Passport must be your lone signature image!
Once stamps start rolling in, it will be your responsibility each month to let us know which stamps you've earned, and we'll update your Passport for you!
Sounds like fun, right? Whaddya think, PoP!ulation?